Subscribe to the podcast
[button style='orange' url='https://itunes.apple.com/us/podcast/the-tel-aviv-review/id913491428?mt=2′ target='_blank' icon='iconic-rss']Subscribe via iTunes[/button] [button style='orange' url='http://telavivreview.tlv1.libsynpro.com/rss' target='_blank' icon='iconic-rss']Subscribe via RSS[/button]
Dr. Paul Shrell-Fox, a rabbi and psychologist at the Schechter Institute of Jewish Studies in Jerusalem, tries to answer the question that's been troubling us for centuries. He explains to host Gilad Halpern how the Jewish intellect has developed over the centuries.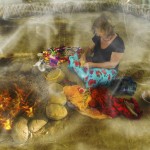 My life as an Israeli in an Indian reservation
Dr. Michal Segal Arnold, a lawyer and political scientist, wrote her PhD thesis about the American Indian Movement, a Native American pressure group. She explains how she lived for a year as the only non-Indian in Reservation Prairie Island in Minnesota.
Music:
Tamar Eisenman – Creation
HaGashash HaHiver – Kulam Chachamim Kulam
Gillian Welch, Dave Rawlings – As Long As The Grass Shall Grow